ISAAC
The creamy head, the intentionally cloudy, apricot color and the scent of yeast and citrus, which blend into spicy harmonies of coriander and peeled oranges, call you from the glass. Refreshing to the palate, it has a light body and is very easy to drink.
PAIRINGS ISAAC is ideal as an aperitif, is perfect with fresh dishes and light vegetable appetizers, and goes well with fish too.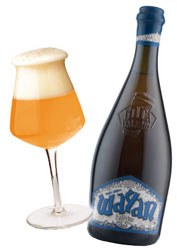 WAYAN
5 cereals: barley, spelt, wheat, rye and buckwheat. 9 spices, of which 5 peppers, in a renewed mix. Fizzy and refreshing, with a light, slightly cloudy color. Its aromas are reminiscent of the countryside and sun-soaked citrus orchards, and perfectly combine with the notes of orange blossoms, pear and bergamot, present in the recipe.
PAIRINGS WAYAN elegance gives a unique touch to shellfish and fish dishes, as well as white meat or fresh cheeses.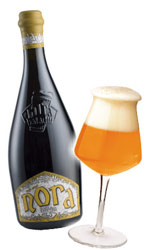 NORA
Nora tells of ancient history, nomadic people and pyramids, spices and Kamut®, which means "the soul of the earth" in ancient Egyptian. Its warm, orange-amber color is complemented by a tall head which releases notes of Eastern aromas, ginger and citrus fruit.
PAIRINGS NORA scents and sweetly balanced taste are ideal to accompany spicy ethnic dishes, cured meats and cheeses, artichokes and asparagus.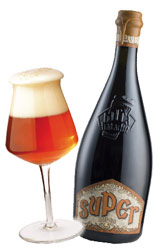 SUPER
Super takes inspiration from Abbey beers and interprets them with its own style. It has a gleaming amber color and smells of tropical fruit, banana and marzipan. Super is harmony turned into beer and leaves an aftertaste of dried fruit and almonds. Easy to drink and well balanced, it is the ideal accompaniment to food and is perfect to sip in the company of friends.
PAIRINGS SUPER is recommended with braised meat and excellent with mature cheeses.